From Strider no. 68 – April 1994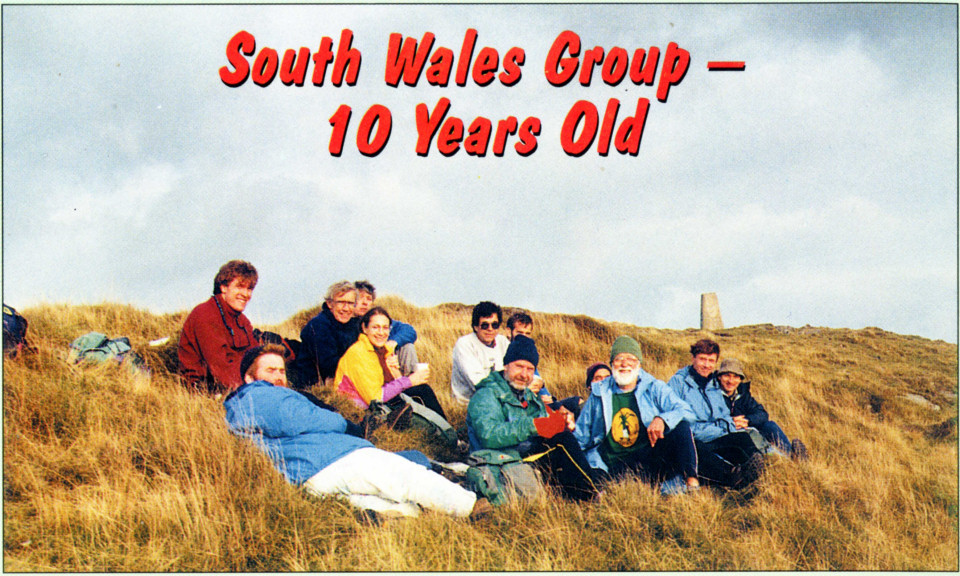 South Wales Group's inaugural walk, the 'Heights of the Lower Rhymney Valley', was 23 miles. For our tenth anniversary walk we chose a 26 mile route in the Black Mountains.
Being a special occasion a cake was produced, iced with the now famous South Wales badge, together with two large bottles of wine, one white, one red. The birthday party was to be held on the top of Sugar Loaf about two miles before the end of the walk. Gerry Jackson carried the cake in his rucksack. As a group founder member and cake procurement officer we thought it only right that he should have the honour. Volunteers were nominated to carry the wine and Julia Kaye the plastic cups and doilies.
The party numbered 13 of which Julia, Gerry, Andrew Clabon and Marcus Harling were on the original walk in September 1983.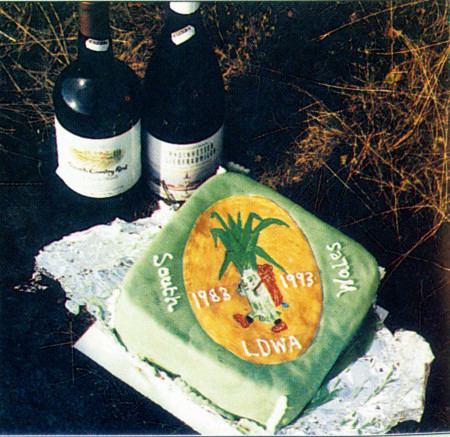 From Forest Coal Pit, north-east of Sugar Loaf, our route took us up over Crug Mawr, then down into Mynydd Ddu forest, to Bal-Mawr, Blaen-y-cwm and up onto Pen y Gadair-Fawr and Waun Fach, the highest point in the Black Mountains. The weather had become unfriendly with drizzle and low cloud, in fact very un-birthdayish. However we descended to the col below Pen Trumau where conditions improved so we had our lunch. Much willpower was exercised and the bottles of wine remained unopened and the cake uneaten. We were now on the final section of the 1989 Brecon Beacons Hundred route and memories of aching legs and blistered feet returned. We left the Hundred route at Table Mountain to pass through Llanbedr and so to the final climb to Sugar Loaf.
The weather was now very friendly with bright sunshine. As the photo shows, the cake survived the journey in Gerry's rucksack and, at the summit, after much discussion, argument and laughter, was cut with due ceremony. The four members on the original walk had the corner pieces with more icing. We made short work of the two litres of wine and every crumb was accounted for by the group (well actually Bob 'Hoover' Smith). It was a merry band of walkers that made the final descent to the car park and all agreed it had been a happy birthday.
Dan Hadfield